Sarah Nally (aka Sally McNally's) has a passion for food.
She has spend the last 20 years helping some of the largest food companies in the world developing products for the retail market. Whether working with Nestlé with their chocolate products or Simplot with their frozen and chilled meals, Sarah has always had a desire to set up her own small business in Australia producing tradition English-style jams, pickles and chutneys, like she produced with Pam "the Jam" Corbin of River Cottage. Sarah worked with Pam with her small business Thursday Cottage in Dorset in the UK.
Sarah brings that passion for preserves and quality food to her small business.
Allergen and Dietary Advice
Everything is gluten free apart from Mango Chutney & Plum Chutney (contains barley from malt vinegar). There is no wheat in anything. These have a plain sticker on the cap. All other products have a "No Added Gluten, Vegetarian Friendly" sticker. Everything is in fact Vegan apart from the butters, and Tomato Relish, Green Tomato Pickle and Piccalilli (contain honey). 
There are no preservatives added to the products apart from ones that are naturally in the bottled lemon juice and white and red wine vinegars (sulphites). These are included on the ingredient list.
All products contain sugar apart from the ones which contain only honey – Tomato Relish, Green Tomato Pickle and Piccalilli. Some of the relishes have less sugar than others (see that section)
Shelf life of jams, marmalades and relishes/ chutneys is 2 years from date of manufacture. These are on the side of the jar. These will last for 5-6 months in the fridge. All products need to be kept in the fridge as they contain no preservatives. The exception to this is the butters which have 3 months shelf life from the date of manufacture. They will last till the expiry as long as they are kept in the fridge.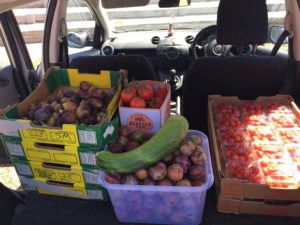 Sarah supports other stallholders at the markets she attends by purchasing the freshest ingredients to produce her products.