Have you tried the Bakery Hill Whisky Marmalade range yet? It's probably one of the best marmalades you'll ever try!
Whisky and Marmalade are traditional Scottish fare. Both are well loved in Scotland, and it was enviable that someone would eventually combine the two, resulting in the most exquisite complex flavours.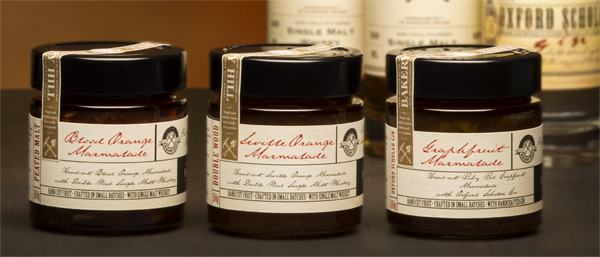 We have collaborated with Bakery Hill Distillery to produce a truely 'Locally' made interpretation of this Scottish tradition. We have taken David Baker's carefully crafted whisky and combined it with local citrus fruit, hand-cut, hand-made, slow cooked in small batches, to capture the flavours of both fruit and whisky to create a flavour sensation.
Blood Orange Marmalade with Bakery Hill Peated Whisky – Sweet and Smoky. The sweet flavours of Blood Orange blend perfectly with the smoky peaty flavours of the Bakery Hill Peated Whisky.
Seville Orange Marmalade with Bakery Hill Double Wood Whisky – This is one for the traditionalists – this marmalade is made with Seville Oranges, the bitter orange which marmalade in Scotland was originally made from. The story goes that marmalade was originally made from a large stock of oranges bought from Seville Spain. Not realising that the oranges where too bitter to eat, the clever Scotts decided to turn them into what we now know as marmalade. This marmalade has the traditional bitter, fruity, and citrus flavours, rounded off with the woody notes of the Bakery Hill Whisky.
Grapefruit Marmalade with Bakery Hill Scholar Gin – This is for the true citrus lover! An award winning marmalade made with Victorian-grown Ruby Red Grapefruit, combines perfectly with the citrus and floral aromatics of the Bakery Hill Scholar Gin resulting in a citrusy, slightly bitter marmalade, reminiscent of gin and tonic flavours.
Order online at www.bakeryhill.com.au or the range can also be purchase as well as a selection of Sally McNally's Jams and Relishes at The Village Grocers (IGA) in Middle Park 19-21 Armstrong Street, Middle Park VIC 3206 Phone: (03) 9696 2532